Unlimited Domain Hosting
Features:
Host Unlimited Domains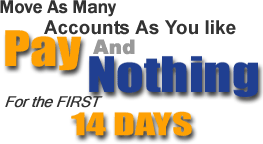 Create Custom Packages For Your Customers
Personalized Nameservers (NS.YourDomain.Com)
Anonymous Control Panel for your clients
$1000 worth of hosting-infrastructure software
Access to WebHost Manager ($100/month value)
Our WebPlatter accounts allow you to host and manage an unlimited number of web sites for one flat fee.
Virtual servers and domain names can be added and administrated at the click of a button via WebHost Manager, an advanced, widely used web hosting e-management system valued at $100/month.
All WebPlatter accounts include your very own anonymous control panel for your clients and personal server names enabling you to resell hosting services under your own brand.

WebPlatter Standard

WebPlatter Bronze

WebPlatter Platinum

WebPlatter Gold

14 Day Free Trial

Yes

Yes

Yes

Yes

Setup Fee

FREE

FREE

FREE

FREE

Monthly Fee

$39.95

$49.95

$59.95

$79.95

Domains/Accounts

Unlimited

Unlimited

Unlimited

Unlimited

Anonymous
Control Panel

Click to view

Click to view

Click to view

Click to view

Disk Space

10 GB

20 GB

30 GB

40 GB

Bandwidth

200 GB

300 GB

400 GB

500 GB

Account Features:
Host Unlimited Domains
You can host an unlimited number of domain names and sub domains on your account for no extra charge.
Unlimited Hosting Accounts
You can create an unlimited number of hosting accounts which can be either full virtual servers or web forwarding accounts. Disk space and data transfer quotas can be set for; and email, database, control panel, SSL, FrontPage, FTP and Statistics services allocated to each account.

Shopping Cart
Every domain has a pre-installed version of RedHat Interchange Shopping Cart ($600 value)
Microsoft FrontPage Server Extensions with ASP Support
FrontPage 2000 extensions are installed on our web servers. This allows you and your customers to take advantage
of the dynamic features and publication wizard in Microsoft's web page authoring software.
Web Hosting Manager Included ($100/month value)
Webhost Manager is a state of the art server management program that lets you:
Set up new hosting accounts, delete hosting accounts, suspend websites for non payment, modify dns settings, Change Passwords, Quota, Bandwidth Limits, install/remove frontpage extensions and much more!
Anonymous Control Panel
Your own personal control panel accessible via http://yourdomain.com/cpanel/ includes all the features of our standard control panel for each of your customers to use.
Money Back Guarantee
If you are not completely satisfied with our services within the first 30 days of use, we will refund you in full.