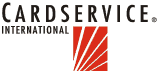 In cooperation with Cardservice International, we can now allow our customers the ability to accept credit cards online. Cardservice International is an independent credit card processor and an Internet communications company. Based in Agoura Hills, California, Cardservice International assists merchants who provide products and services to businesses and consumers around the world.

Cardservice International is one of the fastest growing transactions processing companies in the United States. Incorporated in 1988, the company nas now more than 550 corporate employees, 200 sales offices, and in excess of 2,200 Sales Representatives nationwide.

Well known for its unsurpassed customer service, Cardservice International offers a complete range of traditional and Internet consumer payment options. Cardservice International has a rapidly growing customer base of over 150,000 merchants, processing an annual bankcard volume in excess of 6 billion dollars. Expect the Best Service!

For more information, please contact our CSI representative Matt Robertson directly at 1-888-783-5333 ext #13.


Net Commerce is a powerful Internet-based software tool using AuthorizeNet that provides secure, realtime transaction processing. The Virtual Terminal feature of Quick Commerce allows merchants to process transactions from anywhere in the world where they have Internet service. The Weblink feature enables merchants to automatically accept, authorize and process credit cards and check orders directly through their web site, 24 hours a day, 7 days a week in real-time, without the need to ever speak to customers.

98.9% Approval on new accounts
Setup can be 100% Financed: so theres no large out-of-pocket initial investment.
Fast Turnaround: Funds are transferred into your account within 48 hours.
Virtual Terminal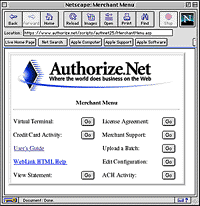 The Authorize.Net Virtual Terminal enables businesses with an Authorize.Net account to authorize, process, and manage credit card transactions from any computer with an Internet connection and a Web browser. Virtual Terminal replaces standard authorization terminals or software and provides the best solution for merchants who manually enter credit card transactions for mail or phone order sales.
In addition, your online store will access your virtual terminal account to authorize purchases that customers make from your store. You can then use your virtual terminal to review the purchases that have been made and the status of the transactions.
Virtual Terminal is the ideal solution for businesses of all sizes because it removes the complexity and expense normally associated with authorizing and processing credit card transactions, and it's much faster than standard dial-up authorization systems.
Businesses with an Authorize.Net account simply access the Authorize.Net Virtual Terminal through our Web site using any industry standard Web browser. After logging on to the system using a unique user ID and password, merchants can access the complete range of Authorize.Net services. This includes authorizations for purchases, credits and returns, status and activity reports, and much more.
To authorize credit card transactions, the merchant simply completes an electronic form that provides the Authorize.Net system with the information it needs to complete the transaction. This information is encrypted using the latest 40 or 128 bit Secure Socket Layer (SSL) 3.0 technology and sent to an Authorize.Net host server. The server then sends the data through the authorization network to the appropriate card issuer's bank over a secure, proprietary connection. When the process is complete -- this takes around five seconds -- the merchant receives an authorization number, and the Authorize.Net server stores the transaction. Transactions are automatically settled each day and funded within 2-3 days.
Merchants can also check the status of transactions, automatically bill customers for recurring charges, or run a variety of reports right from the Authorize.Net Virtual Terminal.
It's no surprise that Authorize.Net is the world's leading Internet-based payment authorization and transaction processing solution. Thousands of companies are currently using Authorize.Net to authorize, capture, and manage their credit card transactions.
The Authorize.Net Virtual Terminal makes credit card authorization and transaction management fast and easy.
---
MERCHANT FEES
Special Discount Program For Interactive Online Clients.
Application Fee
Included in pricing
Secure Gateway Fees
$15.00/Month
Authorize Net Virtual Terminal setup
contact us
Monthly Statement Fee
$10.00
Monthly Minimum
$15.00
Per Transaction Fee
$0.35
DISCOUNT RATES:
MASTERCARD
2.25%
VISA
2.25%
AMERICAN EXPRESS
3.75%
American Express require separate approval.
Interactive Online partners with